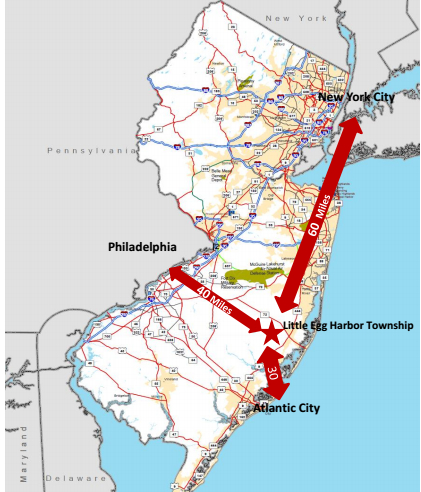 LINDA FAHMIE, REAL ESTATE DEVELOPER AND AGENT LEADS COMMERCIAL ACTIVITIES ON THE LAST LARGE COMMERCIAL DEVELOPMENT CORRIDOR IN SOUTH EAST NEW JERSEY

For Immediate Release: Little Egg Harbor, NJ (Date): Linda Famine, President of
ROI Renovations
and Development, one of New Jersey's premier commercial property developers and Commercial Realtor with KW Commercial, recently completed the sale of 607 Route 9, Little Egg Harbor, a three acre commercial lot located just north of the new 161,000 SF Super Wal-Mart currently under construction, also sold by Fahmie. Ms Fahmie is also representing eight other commercial properties on the Route 9 corridor and one two miles north of the corridor, on Route 539.
Due to the CAFRA and Pinelands Act mapping, there are no other corridors available for commercial development of size and for that reason, Walmart purchased 34 acres, sufficient to build a 161,000 square feet regional super center.
"
This is the last development corridor of size remaining after the 1973 CAFRA mapping (Costal Area Facility ACT)
,
was approved. The CAFRA Town Center designation permits the commercial development up to 70% impervious coverage to encourage concentrated commercial development instead of urban sprawl and protect the environmentally sensitive areas of the New Jersey Shore,
" Fahmie explained.
The NJ DEP (NJ Department of Environmental Protection), CAFRA mapping under
Coastal Zone Management rules N.J.A.C. 7:7 delineates the CAFRA zones which extends through eight counties of New Jersey, from the coastline of Middlesex County south to Cape May County, west following the Delaware River to Salem County.
The properties in this corridor present a very rare opportunity in New Jersey for commercial development. According to Fahmie, "NJ commercial developers will be the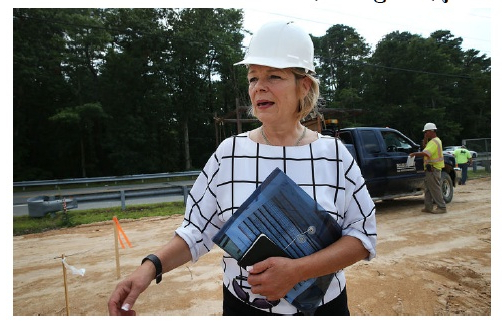 first to attest that finding appropriately zoned large swaths of land, ready to build with water, sewer, and utilities at the road and some with approvals, is extremely rare in this state" One property, 752 Route 9, has approvals for over 100,000 square feet of retail space and another is approved for public storage.
Fahmie is working with the local, county, and state officials to plan and attract quality destination entertainment retailers, which she has identified as one of the highest and best uses for this development corridor. According to Fahmie, "
This development corridor is accessible to over 30,000,000 people within 1.5 hour drive time and is a marine community ideally located near the Jersey Shore beaches, Atlantic City, & Philadelphia
". Fahmie, along with Dana Lancellotti, Director of Ocean County Business Development and Tourism, presented their vision of a family friendly destination entertainment and lodging venue as a possible use for the site.
"
It was very encouraging to see so many leaders in the State of New Jersey in attendance and to feel their enthusiasm for to make good use of the rare development opportunity,"
said Fahmie, "
It is indeed rare to have a development corridor with enthusiastic support to promote quality commercial growth in the last large commercial development center south east New Jersey from Forked River to southern Atlantic County
."
MORE
###
---